Order & Payment Options
Currently, we use Paypal to receive online payments (just click on the "Add to Cart" buttons). It is fast, easy, and secure through an encrypted page (https - you'll see the secure plug in at the bottom of your page when ordering through paypal) However, you may also pay by check (up to two weeks delay for check to clear), cashiers check, travelers check, or money order by sending your order by mail. We currently cannot take credit card orders by phone but expect to be able to in the near future.
Credit Card Orders
You do NOT need a Paypal account to place your order through Paypal. To use a Credit Card with no Paypal account 1) Click on the "View Cart" button to go to your shopping cart 2) When you are satisfied your shopping cart is what you want, click on the "Proceed to checkout" button, 3) Click on the small "Continue" link above the credit card images on the LEFT side (The Paypal section is in the blue outlined box on the right side of the screen--ignore that). Click on the images below to see the sample screens.
| | |
| --- | --- |
| | |
| Shopping Cart Page | Checkout Page |
Order Form for "off web" orders
For online orders, just click on the "Add to Cart" button. For offline orders chose a method below.
You can print an order form from a web page by clicking here, a Word document by clicking here or a pdf version of our order form by clicking here.
Filling out the order form:
An example of a filled out order form is shown below: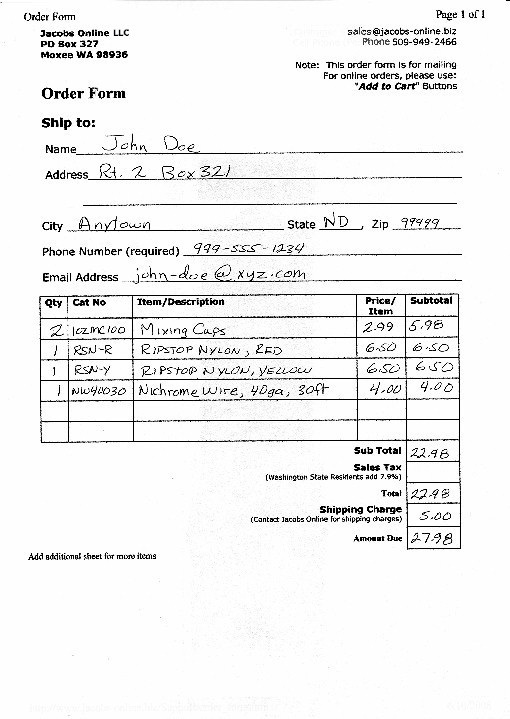 Note that this order will result in 200 mixing cups, one yard of red nylon, one yard of yellow nylon and 30 feet of 40ga nichrome wire. To get shipping cost, email us with what you want to order (same info as above) and we'll send you the shipping cost.
Order by Mail:
Fill out order form and send with check or money order to:
Jacobs Online LLC
PO Box 327
Moxee, WA 98936
Order by Fax:
You can send your order form by fax but you would still have to mail your check or money order so you might as well send the the order form by mail with the check instead.
toll free fax: 877-793-9674
Pay through Paypal by Email
Another way to pay is directly through paypal if you have a paypal account. You can send us your order anyway you like and then we can give you the total amount. You just then log into paypal and select "Send Money." All you need is an email to send it to (sales@jacobs-online.biz) and the amount and it is transferred from one paypal account (yours) to another paypal account (ours). Very simple.
Order by Phone:
The website has been set up so you can order online easily and quickly and that is the best and preferred way to place an order. If you are "computer illiterate" or have trouble placing the order online, I can take your order over the phone but am not available at all times and it takes longer to get all the spelling correct and verify all your information. Please use the online order process if at all possible. For phone orders: 509-949-2466.